On May 18th, 2016, China-Africa Dialogue-Responsible Investment and Inclusive Growth was held successfully at the University of International Business & Economics (UIBE), Beijing, under the coordination of UIBE's Collaborative Innovation Center for China's Multinational Enterprise, China Strategy Research Center for Open Economy and International Technology Center, China Society for World Trade Organization Studies (CWTO), MOFCOM and China International Chamber of Commerce for the Private Sector (CICCPS). It was co-organized by Center for International Business Ethics (CIBE, UIBE), Brand South Africa, China House, Oxfam HK, Sino-Africa Center of Excellence Foundation, SynTao Co., Ltd, Institute of International Economy, UIBE and WTO Tribune Magazine, MOFCOM. More than a hundred guests from business, academia, government departments, trade associations, NGOs, and media attended this event. The salon was emceed by Li Li, Associate Professor of UIBE. In the afternoon, two parallel panel discussions on China-Kenya and China-South Africa were held in UIBE.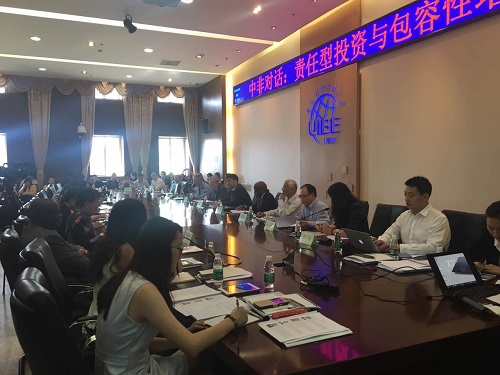 Prof. Zhao Zhongxiu, Vice president of UBIE; Sun Zhenyu, Chairman of CWTO; Liu Guijin, Former Ambassador to Zimbabwe, South Africa; Michael D.M. Kinyanjui, Kenyan ambassador to China, attended the Opening Session.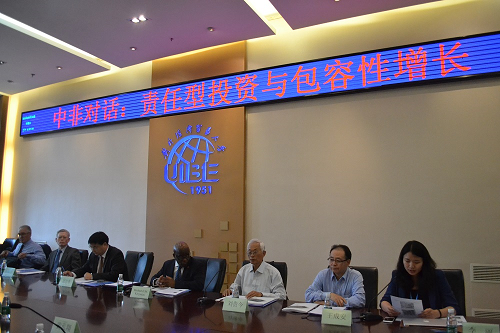 Wang Chengan, Vice Chairman, CWTO; Deon Rossouw, CEO, Ethics Institute of South Africa; Liu Haifang, Deputy Director of the Center for African Studies, Peking University; Xu Xiaoling, Director, CSR Research Office and Chief Editor of CNPC CSR Report Editorial Office; Luo Yating, Researcher, Sino-Africa Centre of Excellence Foundation; Huang Hongxiang, the CEO & founder of China House gave keynote speeches from their researching areas. After that, Wang Duanyong, Director of the Centre for China's Overseas Interests Studies, Associate professor at Shanghai International Studies University and Wang Jianzhu, Ph.D. Candidate of Tsinghua University introduced the Report "The Impact of Foreign Enterprises on Poverty Alleviation in Kenya: the Case of China".
The China-Kenya panel was emceed by Ms. Beatrice Matiri Maisori, Ph.D. Candidate, UIBE. Ezra Mbogori, Executive Director, Akiba Uhaki Foundation; An Aijun, Deputy General Manager, China Road and Bridge Corporation; Vincent E. Omuse, Commercial Counsellor, Kenya Embassy in China; Niu Zhiqiang, Associate Research Fellow at the Institute of Multinational Operation, China Enterprise Confederation; Zhang Xiaofeng, Director, Institute of African Studies, Zhejiang Normal University gave speeches from different perspectives.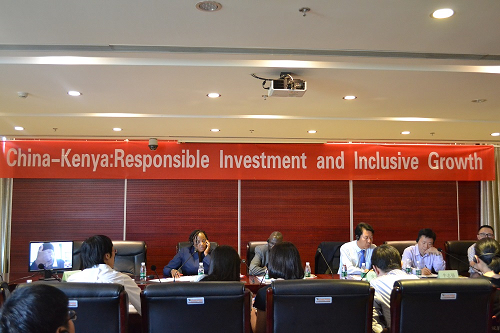 The China-South Africa panel was emceed by Tebogo Lefifi, China Country Manager, Brand South Africa. Participants included Feven Tsehaye, Consultant servicing, Bill & Melinda Gates Foundation's China Office; Mashudu Silimela, Agriculture, Forestry and Fisheries Counsellor, South Africa Embassy in China; Zhang Chuanhong, Associate Professor, Research Center for International Development, China Agricultural University, and Zhi Hui, Executive Director, Marketing Development & Consulting Service Departments, China- Africa Development Fund.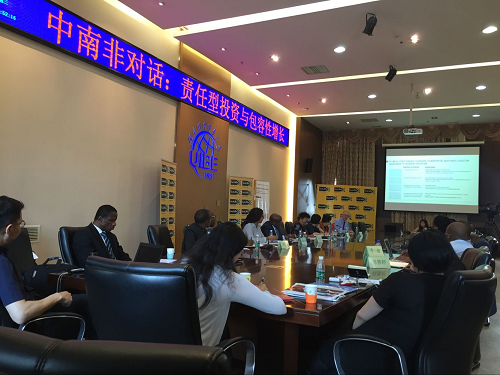 Prof. Zhao Zhongxiu gave the opening speech. He pointed out that in recent years, we have witnessed the development of Sino-Africa relationship. Many measures have been taken by China and Africa, such as agriculture modernization, investment promotion, financial service promotion and public welfare enhancement. These series salons are aiming at promoting Corporate Social Responsibility, strengthening Sino-Africa relationship and benefiting both China and Africa.
Mr. Sun Zhenyu said that, in the 1990s, some Chinese enterprises started to go global. And in 21stcentury, the foreign investment growth has largely accelerated. The main reasons for the growth are as follows: "One belt One road" policy smoothes the way to investing overseas; UN Sustainable Development Goal (SDGs) to 2030 makes it clear for developing countries to set their targets; Internal needs of Chinese enterprises make them active in oversea markets. As the second largest economic entity and one of the biggest developing countries, China shoulders the responsibility to help developing countries.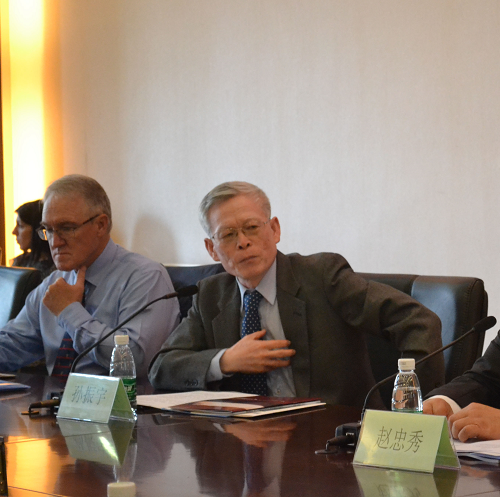 Mr. Liu Guijin mentioned that the real meaning of business ethics should be the pursuit of local development and shared prosperity when Chinese companies do business there.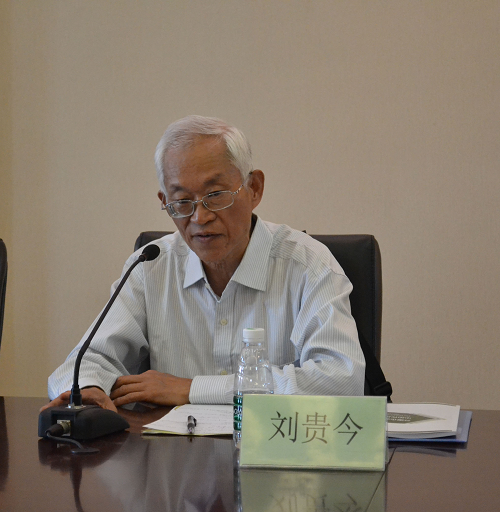 Mr. Michael D.M. Kinyanjui said that China is a very important and ideal partner to Africa. Chinese enterprises should take social responsibility to maintain sustainable development of environment. Currently, some programs started running and every year, lots of African students come to China to study, which will benefit the Sino-Africa relationship. The ambassador looks forward to see future cooperation between China and Africa.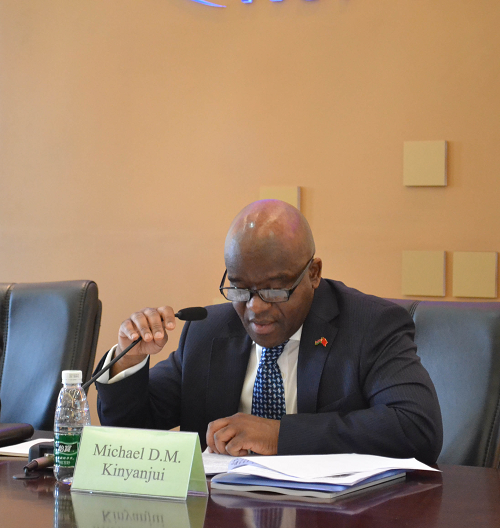 Dr. Liu Baocheng, director of CIBE, gave the closing speech. Dr. Liu pointed out that great efforts should be made to enhance mutual understanding between China and Africa. Dr. Liu said that CIBE would like to work with stakeholders to equip more Chinese firms with the knowledge of business ethics and engage in actions that would have positive impacts on the local communities, increase the Corporate Social Responsibility implementation, and achieve the inclusive growth.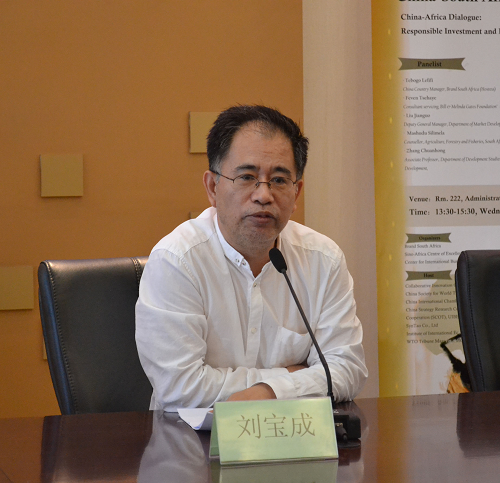 Chinese speakers pointed out that Sino-Africa new strategic partnership has become all-round cooperation relationship. To implement Ten Cooperation Plan between China and Africa, the government should play the leading role in a market driven economy. China and Africa will achieve win-win situation in trade, investment, contract engineering and so forth. Local industries and enterprises should seek the opportunities for shared prosperity while protecting eco-system, interacting with local society, building mutual trust in business, and contributing to local development. When it comes to CSR issue, we shall focus on improving Chinese companies' capacity of localization in operation, and make efforts to promote sustainable development of economy and society in Africa, thus leading to mutual benefits and joint development. We suggested that Chinese companies take their social responsibility in the following five aspects when investing in Africa: firstly, to achieve localization in management progressively; secondly, to protect the local ecological environment; thirdly, to strengthen the cultivation of local talent; fourthly, to actively participate in local public welfare undertakings; and finally, to go on the road of sustainable development.
African speakers pointed out that we should call for more communication and dialogues between China and Africa. A sustainable Africa-China Business relationship should focus on big issues, including the Labour Relations, Products & Services, Safety and Security, Environment responsibility. It's important for the Chinese companies to understand the African business environment before doing investment. The Chinese government should release more information about the markets and investment programs in Africa. Governments and embassies of African countries should offer guidelines to Chinese investors who are interested in doing investment in Africa.
The salon came to an end successfully in the hot discussion of audiences and guests.
(Thanks to Ms. Liu Jian, Reporter of China
Africa Magazine, photographer of some speakers)